Click HERE to see what exhibitors are saying about the show!
looking to exhibit?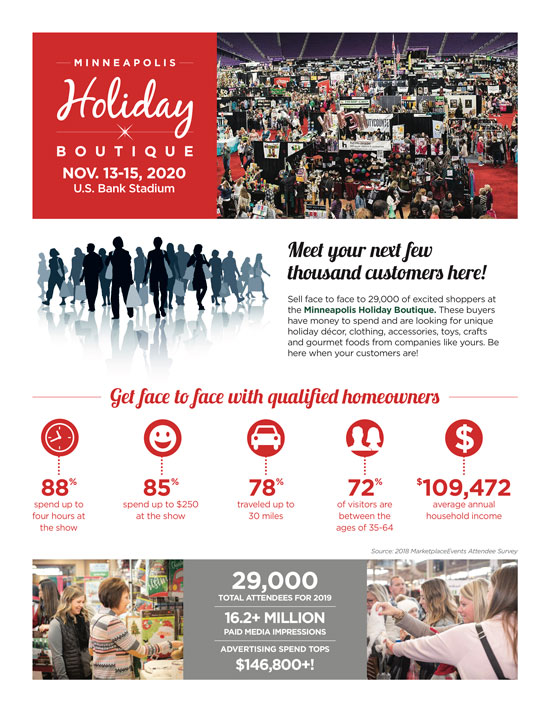 -The show is entering its 5th year and is the largest holiday shopping show in Minneapolis!
-72,460 visitors browsed our show website in 30 days prior to the show.
-29,000 shoppers came to the show in 2019.
-8,305 consumers in our database
-Featuring approximately 250 exhibitors including local and national boutiques, artisans, beauty, wellness, holiday gift and décor exhibitors.
-Held in a state of the art indoor, highly secured and temperature-controlled environment with black pipe and drape in the heart of downtown Minneapolis, at US Bank Stadium.
-The 2019 show is on the football field and will be covered with a hard plastic flooring. All aisles of the show will be fully carpeted.
-Exhibitors are required to provide finished flooring in their booth for all areas visible to consumers.
-Move-in is through the dock on the East side of the building and many vehicles will have the ability to drive up to their booth to unload. Product can also be hand-carted in through the Lower Pentair Gate Wednesday from noon to 8 pm, and Thursday from 8 am to 8 pm.
-Paid parking options are available all around the stadium, including flat lots and ramps.
Thousands of visitors converged on the U.S. Bank Stadium for three days of shopping at the 2019 Minneapolis Holiday Boutique. Shoppers eagerly walked the show to buy from 259 exhibitors. Book your booth now to be a part of this fabulous holiday shopping event.

Interested in taking part in the Minneapolis Holiday Boutique show?
Get a booth quote today!
ENTRANCE
We will have 3 Entrances to the Show Floor - one on the Northwest side & another on the Southwest side of the field. Both require walking down stairs from the Concourse to the field. The third escalator and elevator entrance is on the South side and will enter the show floor through the Delta Club Concessions area.

Nursing pods (rooms) will also be available on both the Concourse and Field levels.
Area Hotel
RADISSON RED, MINNEAPOLIS
609 S 3rd Street,
Minneapolis, MN 55415
(612) 252-5400
Check back for updated rates and promo codes