2019 Show Dates & Hours
Friday, November 8, 2019 10:00am - 9:00pm
Saturday, November 9, 2019 10:00am - 9:00pm
Sunday, November 10, 2019 10:00am - 5:00pm
Exhibitor Kit
CLICK HERE to view the 2018 Exhibitor Kit.

*THE 10 MINUTES YOU TAKE TO REVIEW THIS INFORMATION WILL SAVE YOU TIME AND MONEY WHEN SETTING UP YOUR DISPLAY AT THE SHOW.

The 2018 Exhibitor Kit will not be printed or mailed to you. We are reducing our paper trail by sending out our information via email and posting these important items on our website.
For information concerning electricity, furniture rental, carpeting and signage, please contact:
Jessica Mulheron
Exhibitor Representative
Phone: 651.280.4935
Email: jmulheron@corexpo.com


COREXPO
EXPOSITION SERVICES
2110 Old Highway 8 NW
New Brighton, MN 55112
www.corexpo.com
**CLICK HERE TO VIEW THE DECORATOR KIT.**

CLICK HERE TO ORDER ELECTRIC AND INTERNET

CLICK HERE FOR CREDIT CARD AUTHORIZATION FORM
Exhibitor Forms & Information
2019 Show Information

2019 Exhibitor Listing Set Up
2018 Traffic Drivers

New Exhibitor Marketing Package
Holiday shoppers are always looking for what's NEW. The Minneapolis Holiday Boutique provides all NEW Exhibitors the ability to set themselves apart with a high-impact package that drives traffic and promotes their presence.

Holiday Boutique Post Card
Want to invite your customers to the upcoming Minneapolis Holiday Boutique?
• Send this card to your local printer, address and add a personalized note.
• Hand out at events leading up to the show.

Customer Reminder Card
Want a tool to provide customers with additional information while they shop?
Use the Customer Reminder Card to give to customers when they request additional information on your products/services.
parking
Multiple parking options are avaiable around the Stadium including the following ramps:

Daily Parking Options:
Stadium Lot 1 (2066)
811 South 3rd Street
Daily Rate: $8 Early Bird in by 9am; $9 0-10hrs; $10 10-12 hrs; $11 12-24 hrs; $5 eves after 3pm & weekends

Stadium Lot 2 (2067)
301 Norm McGrew Place
Daily Rate: $8 Early Bird in by 9am; $9 0-10hrs; $10 10-12 hrs; $11 12-24 hrs; $5 eves after 3pm & weekends

Stadium Lot 3 (2068)
309 Norm McGrew Place
Daily Rate: N/A

Parking Options - click links in second paragraph under Premium parking

Additional parking options around Stadium
Pre-purchasing is also available through the following sites:

Park Whiz

Parking Panda

Spot Hero:
To reserve your parking spot for the Minneapolis Holiday Boutique, visit the US Bank Stadium SpotHero Parking Page and book a spot with rates up to 50% off drive-up. You can also use SpotHero to park all over Minneapolis – learn more here.
New to SpotHero? Download the SpotHeroiPhone |Android app and enter promo code MHB18 for an extra 10% off your first park!



restocking
*Restocking will be available to all exhibitors from 8:00 a.m. – 10:00 a.m. on Friday, November 9, Saturday, November 10 and Sunday, November 11 through the Dock Entrance on 4th Street regardless if storage is rented.
Promotional Tools and Social Media
Connect with us!

• Twitter: @MPLSHolidayShow
• Instagram: @HolidayBoutiqueShows
• Facebook: @HolidayBoutique
• Hashtags: #MPLSHolidayBoutique #HolidayBoutique
Promote the show and YOURSELF on social media.
Artisan Product Submission Form
Our attendees will be shopping for beautiful, custom made gifts at the show. Submit for a chance to be included in our Artisan product list online! All accepted submissions will be contacted before the show.
*Artisan products must be one-of-a-kind, custom made gifts.
Submissions are now closed.
Christopher's Favorite Finds
Christopher Straub, Twin Cities fashion designer from Project Runway, will be at the 2018 Holiday Boutique. He will also be choosing various exhibitor products to be highlighted as "Christopher's Favorite Finds."
Deadline: October 10th, 2018

Doorways to Holidays Entrance Feature

Don't miss the opportunity to make yourself memorable to each person who walks through the front door! Renewal by Anderson is providing doors to be used as entryways to three designer vignettes displaying outdoor home and holiday décor. Mannequins outfitted with clothing inspired by the theme of each room, and designed by Christopher Straub, will grace each doorway.
Deadline: October 20th, 2018

Donate your products for our hourly giveaways.
Items can be 2 feet by 2 feet in size, or less, and between $25 and $75 at retail. Gift certificates are also welcome to be donated. Items can be brought to the Show Office onsite to be donated.

Partners will receive the following:
Name/logo recognition on signage at the show
4 tickets to the Show, a $48 value
Area to place business cards/advertising at Media area where giveaways will be handed out
Deadline: October 31st, 2018
Move-In/ Move out
CLICK HERE for a larger version of the 2018 Move-In Schedule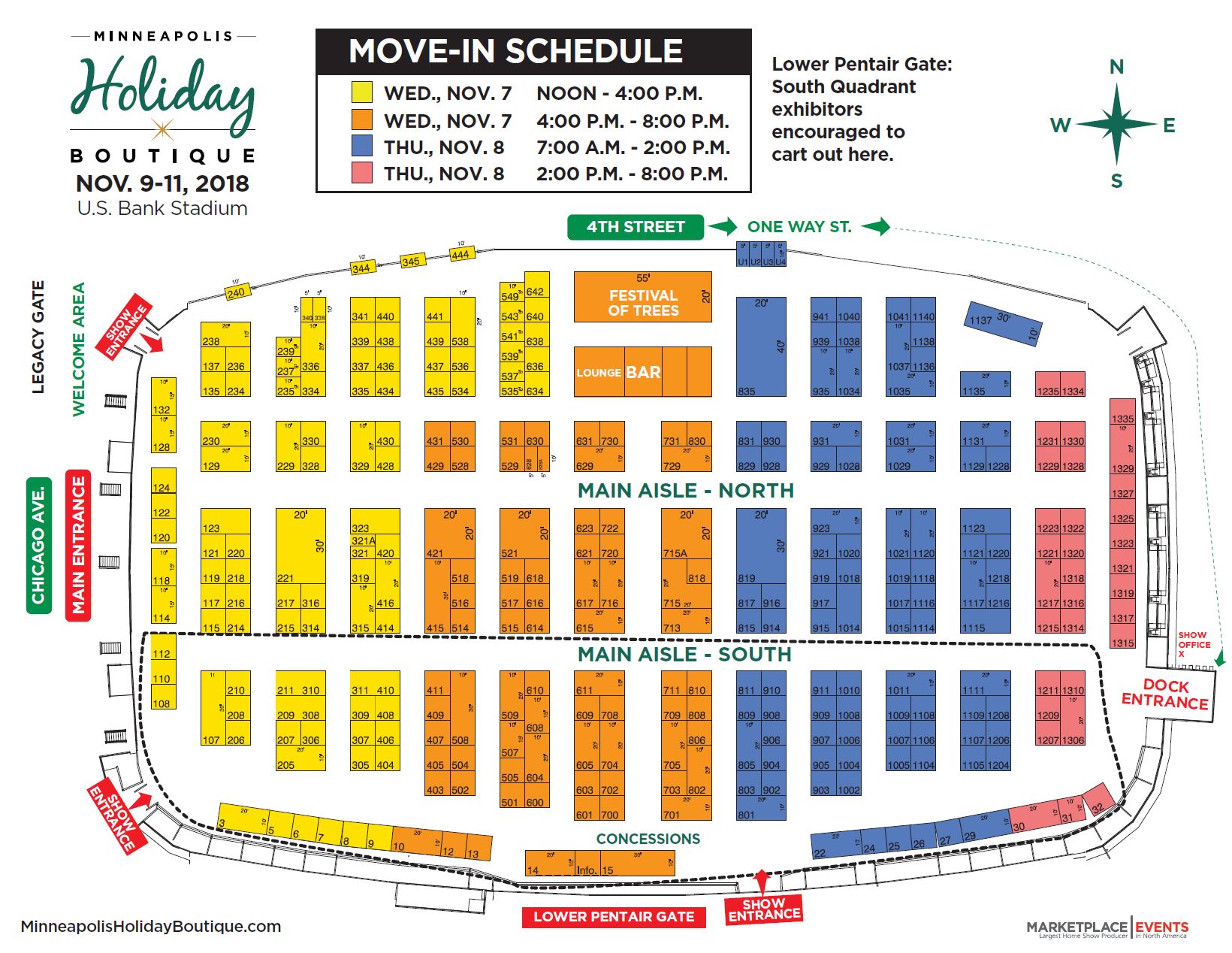 CLICK HERE for a larger version of the 2018 Move-Out Schedule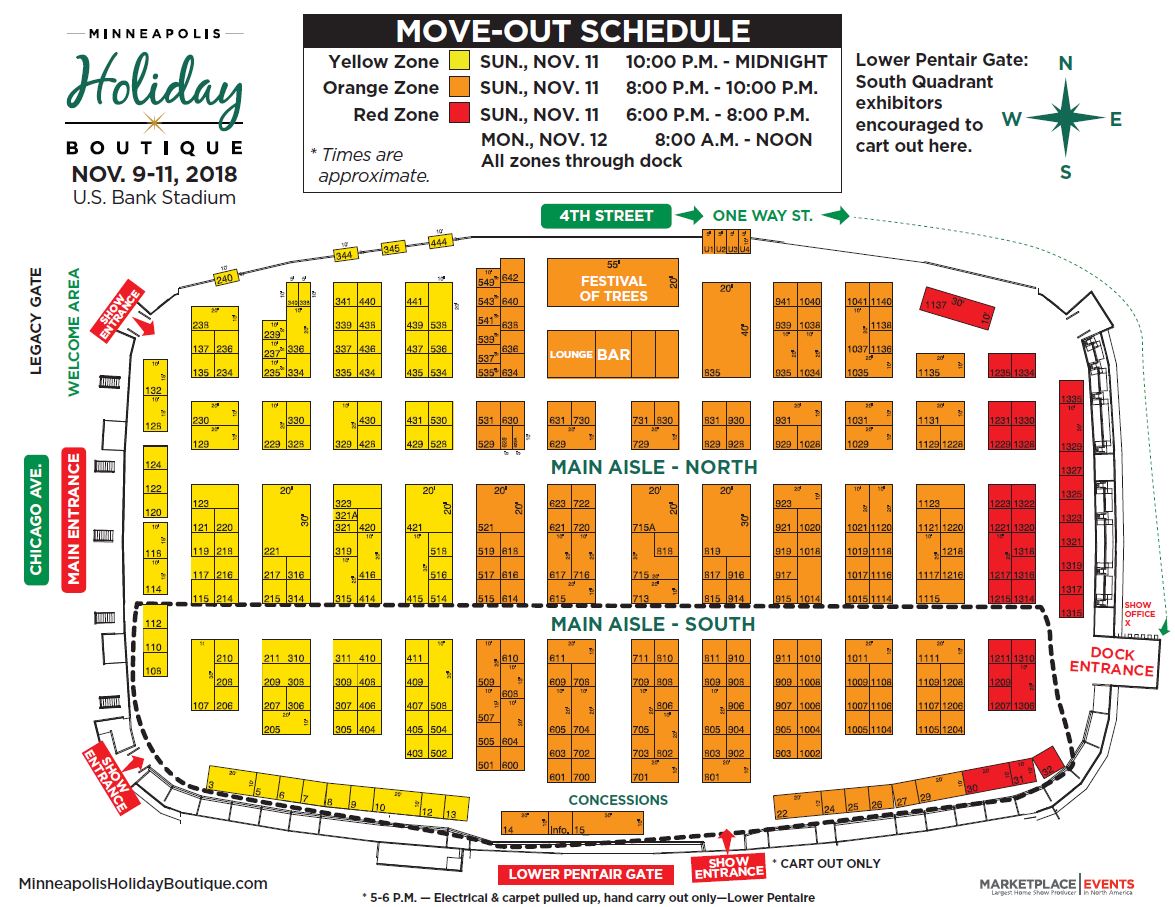 US BANK STADIUM SAFETY and SECURITY INFORMATION