2020 Exhibitor Kit Information Will be Posted Closer to Show Dates
2020 Show Dates & Hours
Friday, November 13, 2020 10:00am - 9:00pm
Saturday, November 14, 2020 10:00am - 9:00pm
Sunday, November 15, 2020 10:00am - 5:00pm
Exhibitor Kit
CLICK HERE FOR THE 2019 EXHIBITOR KIT
CLICK HERE FOR THE 2019 SOCIAL MEDIA & MARKETING TOOLKIT
CLICK HERE FOR 2019 MOVE IN MAP
CLICK HERE FOR 2019 MOVE OUT MAP
*THE 10 MINUTES YOU TAKE TO REVIEW THIS INFORMATION WILL SAVE YOU TIME AND MONEY WHEN SETTING UP YOUR DISPLAY AT THE SHOW.

The 2019 Exhibitor Kit will not be printed or mailed to you. We are reducing our paper trail by sending out our information via email and posting these important items on our website.
For information concerning electricity, furniture rental, carpeting and signage, please contact:
Jessica Mulheron
Exhibitor Representative
Phone: 763.458.7212
Email: jmulheron@fernexpo.com
Fern Expo
EXPOSITION SERVICES
751 Wyoming Street
Kansas City, MO 64101
www.fernexpo.com
**CLICK HERE TO VIEW THE DECORATOR KIT.**


CLICK HERE TO ORDER ELECTRIC AND INTERNET

CLICK HERE FOR CREDIT CARD AUTHORIZATION FORM
CERTIFICATE OF INSURANCE
All exhibitors are required to carry Commercial General Liability Insurance with limits of $1m per occurrence/$2m aggregate. Completed forms can be sent to JulianneS@MPEshows.com
If you have your own insurance, please ask your insurance company to issue a Certificate of Insurance listing
Certificate Holder
Marketplace Events LLC
31105 Bainbridge Rd., #3
Solon, OH 44139

Additional insured should be listed as Marketplace Events LLC.
If you do not have insurance – you can purchase online at http://buttineexhibitors.virtualmga.com – cost is $65 per exhibitor/per event. After completing the online application, you can make your payment with Visa or MasterCard and receive a copy of the certificate by email within minutes.
For more information please contact:
Kendra Reilly Monahan, Account Manager
Commercial
Buttine Insurance, a division of Risk Strategies Company
E: kar@buttine.com
A: 420 Lexington Avenue - Suite 2700, New York, NY 10170
P: 212-867-3642
W: www.risk-strategies.com
parking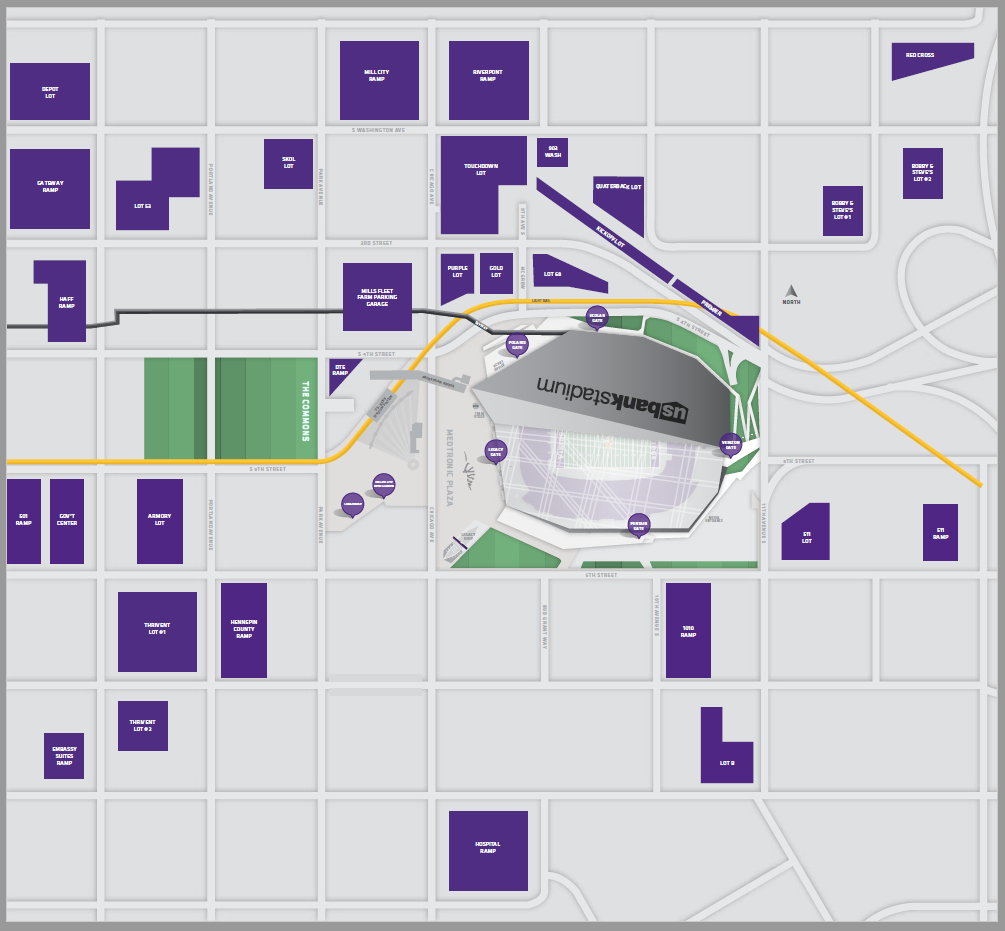 CLICK HERE for a PDF of the Map
Multiple parking options are available around the Stadium including the following ramps:

Daily Parking Options:
Stadium Lot 1 (2066)
811 South 3rd Street
Daily Rate: $8 Early Bird in by 9am; $9 0-10hrs; $10 10-12 hrs; $11 12-24 hrs; $5 eves after 3pm & weekends

Stadium Lot 2 (2067)
301 Norm McGrew Place
Daily Rate: $8 Early Bird in by 9am; $9 0-10hrs; $10 10-12 hrs; $11 12-24 hrs; $5 eves after 3pm & weekends

Stadium Lot 3 (2068)
309 Norm McGrew Place
Daily Rate: N/A
Flat Lot Parking:
511 Parking Ramp & Lot (Same Management)
Contact: Verun Kharbondas
Phone: 612-309-2190
Address: 511 11th Ave S, Minneapolis, MN 55415
Bob & Steve's Lots #1 & #2
Contact: James Graff
Phone: 612-388-7644
Address: 1221 Washington Avenue S., Minneapolis, MN 55415
Lot 53
Allied Parking, Inc.
Phone: 651-227-6900
Address: 500 3rd Street South, Minneapolis, MN 55415
Parking Questions? Contact MPLS Parking:
MPLS Parking
33 North 9th Street
Minneapolis, MN 55403
Email: info@mplsparking.com
Phone: 612-343-7275
Parking Options - click links in second paragraph under Premium parking

Additional parking options around Stadium
Pre-purchasing is also available through the following sites:

Park Whiz

Parking Panda

Spot Hero:
To reserve your parking spot for the Minneapolis Holiday Boutique, visit the US Bank Stadium SpotHero Parking Page and book a spot with rates up to 50% off drive-up. You can also use SpotHero to park all over Minneapolis – learn more here.
New to SpotHero? Download the SpotHeroiPhone |Android app and enter promo code MHB18 for an extra 10% off your first park!



restocking
*Restocking will be available to all exhibitors from 8:30 a.m. – 10:00 a.m. on Friday, November 13, Saturday, November 14 and Sunday, November 15 through the Dock Entrance on 4th Street, regardless if storage is rented.
Promotional Tools and Social Media
Connect with us!

• Twitter: @MPLSHolidayShow
• Instagram: @HolidayBoutiqueShows
• Facebook: @HolidayBoutique
• Hashtags: #MPLSHolidayBoutique #HolidayBoutique
Promote the show and YOURSELF on social media.
Artisan Product Submission Form
Our attendees will be shopping for beautiful, custom made gifts at the show. Submit for a chance to be included in our Artisan product list online! All accepted submissions will be contacted before the show.
*Artisan products must be one-of-a-kind, custom made gifts.
Deadline: November 2nd, 2019
Christopher's Favorite Finds
Christopher Straub, Twin Cities fashion designer from Project Runway, will be at the Holiday Boutique. He will also be choosing various exhibitor products to be highlighted as "Christopher's Favorite Finds."
Deadline: August 30th, 2019

Contact
Julianne Spargo, Show Manager
JulianneS@mpeshows.com - 612.225.2335

Megan Lien, Exhibit Sales Consultant
MeganL@mpeshows.com - 612.225.2332
Autumn Pennington, Show/Office Administrator
AutumnP@mpeshows.com - 612.225.2334