The State Of Shopping At The Minneapolis Holiday Boutique
No, this isn't going to be a boring economic impact or buying trends business story. We're hear to proclaim that Minneapolis Holiday Boutique is the land of local creativity and brimming with Minnesota-made gifts.
Nearly a quarter of this year's exhibitors will be featured in the Midwest Artisan Area located on the northwest end of the field. Here you'll find beautiful, custom-made gifts created by over 50 regional artisans. From beauty items to baubles and food to fashion, you'll find hundreds of items to fill your shopping bags. In addition, Holiday Boutique organizers have expanded the local theme with a new artisan preview area located on the concourse by BAR and Caribou Coffee.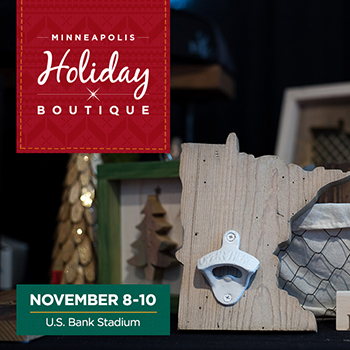 You can be an artisan, too. Fleur de Louis and Northern Gardener are hosting "Make It, Take It" workshops on the concourse from 1pm - 5pm on Saturday, November 9. For just $20, you'll get the supplies and artistic guidance to create your own piece of holiday door décor to take home or yourself or give as a gift.
Speaking of Minnesota-made, we love our local entertainers and personalities! Be sure to check out the following festive activities and photo opportunities:
• Twin Cities-based designer Christopher Straub has created the new "Holiday Runway Challenge" fashion display using materials from Holiday Boutique vendors. Find it on the concourse level near the entrance. In addition, Christopher will showcase "Christopher's Favorite Finds" featuring ten of this year's must-have gifts.

• Miss Minnesota 2019 Kathryn Kueppers will be multi-tasking as both performer and vendor at this year's Holiday Boutique. Kathryn be singing on the concourse on Friday and Saturday at 4pm. She'll also be selling her own line of artisan earrings with proceeds benefitting Children's Miracle Network. Visit Kathryn at her booth (#713BA) – she'll sign autographs and take selfies – with her crown!
• Fred Astair Dance Studio instructors will show and share their skills with guests on Friday (group class at 6pm and performance at 7pm) and Saturday (group classes at 11am and 3pm).
• Take fun selfies with "smokin' hot" charity calendar models at the Twin Cities Fire Fighters Selfie Station with Mirror Me Perfect from 5pm - 8pm on Friday and Saturday, Sunday from noon - 2pm.
• Kelli Hanson from KSTP's "Twin Cities Live" will report LIVE from show on Friday beginning at 3pm.
• Friday's Ladies Night Out festivities will include a special appearance by KDWB's Steve-O and his wife Kristy from 5pm – 7pm.
• KOOL 108's Lee Valsvik will demonstrate her piano skills and lead show goers to her rendition of "Name That Holiday Tune" on Saturday from 11am – 1pm.
• Also on Saturday, local musical duo, Briz & Lady, will perform near the Festival of Trees at 5pm.
• Play games with K102's Amy James on the field on Sunday from 11am – 1pm.
• Listen to holiday classics from the Zuhrah Shriners of Minneapolis' choir and brass band on Sunday from 11am – 3pm.
So, grab your shopping list and your friends and head over to the land of 10,000 gifts! We can't wait to start the holiday season with all of you.
Nov 4, 2019, 13:00 PM