Exhibitor Spotlight: FSR Minnesota Soap And Candle
We're excited to welcome FSR Minnesota Soap And Candle to the Minneapolis Holiday Boutique. Before you visit this ALL NEW vendor in Booth #636 at the U.S. Bank Stadium November 8-10, please enjoy our brief interview with owner Tina Taylor below.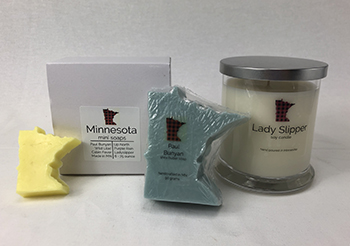 Please describe your products.
"We make natural artisan bath/body products and candles. We specialize in MN themed products that make unique and wonderful gifts."
What are your best tips for the holidays?
"Enjoy them! It's such a great time to continue and create memories and traditions for your family. There are so many fun things to do ranging from holiday concerts to baking to decorating the tree!"
What are your featured items this season?
"MN shaped soaps, MN themed soy candles and our holiday soap and candle bar will be really fun and is intended to recreate a European Christmas Market experience. Our holiday soaps and candles are Sugar Plum Fairy, Pomegranate and Pear, Peppermint Twist, and Gold, Frankincense, and Myrrh."
What's your best holiday shopping advice?
"Buy something quality, unique, and handcrafted. There are so many talented artists that put their hearts in to what they create. They often don't have budgets to have marketing and creative teams - they do it all themselves! It's also meaningful to receive a gift with a story behind it."
What's your favorite part about being in the Minneapolis Holiday Boutique?
"This is my first year in the show and I can hardly wait!"
What's your favorite Christmas movie?
"Elf."
Is there anything else you think folks should know about your business?
"Our company name is FSR. My son started the company when he was 14 years old and we've worked together for three years now. He is very active with design and fragrance creation. I am a very proud mother and grateful to have this experience with my son."
Don't miss your chance to shop 200+ unique vendors like FSR Minnesota Soap And Candle, get your Minneapolis Holiday Boutique tickets today.
Nov 2, 2019, 11:58 AM