Exhibitor Spotlight: Norwex
We're excited to welcome Norwex to the Minneapolis Holiday Boutique. Before you visit this company in Booth #514 at the U.S. Bank Stadium November 8-10, please enjoy our brief interview with representative Sarah Cartwright.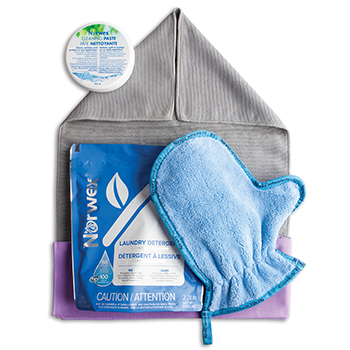 Please describe your products.
"Creating safe havens by reducing chemicals in your homes."
What are your best tips for the holiday season?
"Enjoy the holidays by cutting your cleaning time in half. Focus on one area of your home at a times to decrease stress."
What are your featured items this season?
"Counter cloths for quick clean ups in the home!"
What's your best holiday shopping advice?
"Make a list of those you typically shop for ahead of time and come with a game plan of what is on your list and their list!"
What's your favorite part about being in the Minneapolis Holiday Boutique?
"The energy at this event is uplifting and I love seeing familiar faces and meeting new people!"
What's your favorite Christmas movie?
"Miracle On 34th Street."
Is there anything else you think folks should know about your business?
"My number one goal is to help families and I strive to do that with all of interactions."
Don't miss your chance to shop hundreds of vendors and find something for everyone on your Christmas list, get your Minneapolis Holiday Boutique tickets today. We can't wait to see you at U.S. Bank Stadium!
Nov 1, 2019, 12:12 PM