Exhibitor Spotlight: Cheryl's Nut Butters
Oct 30, 2019, 12:19 PM
We're excited to welcome Cheryl's Nut Butters to the Minneapolis Holiday Boutique. Before you visit this delicious vendor in Booth #31 at the U.S. Bank Stadium, enjoy our brief interview with owner Cheryl Gendler.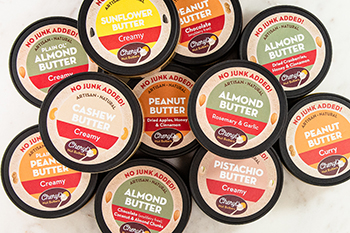 Please tell us about your products.
"Cheryl's Nut Butters has a staff of 3...me, myself and I. They are made from scratch in small batches with minimal ingredients. I fill, seal and label every jar by hand. There are 24 varieties of peanut, almond, pistachio, cashew and sunflower. They are FRESH, HEALTHY and TASTE AMAZING! NO JUNK ADDED! -No added sugar -No added oil -No palm or hydrogenated oil​-No soy -No dairy -No preservatives -No xylitol or erythritol​-No gluten."
What are your featured items this season?
"Receive 1 FREE 8 oz. plain ol' peanut butter ($10 value) for EVERY 6 jars purchased (8 oz.=1, 16 oz.=2)."
Don't miss your chance to shop Cheryl's Nut Butters and other fun vendors! Get your Minneapolis Holiday Boutique tickets today. We can't wait to see you at the U.S. Bank Stadium November 8-10.